Threads, the latest app from Meta, has taken the tech world by storm, amassing a staggering 100 million sign-ups in under a week, according to CEO Mark Zuckerberg. Launched on July 5 by the Instagram team, this text-based conversation app is poised to challenge the dominance of Twitter.
Zuckerberg expressed his astonishment at the rapid growth of Threads in a recent post, stating, "Threads reached 100 million sign-ups over the weekend. That's an incredible achievement, especially considering we haven't even launched extensive promotions yet. It's hard to believe it's only been 5 days!"
Adam Mosseri, head of Instagram, also marveled at the surge of sign-ups, labeling it as "insane" and vowing to enhance the app's features. While high sign-up numbers don't guarantee long-term usage, this milestone is undoubtedly noteworthy. To put it into perspective, it took OpenAI's chatbot ChatGPT two months to amass 100 million monthly active users, and by the end of 2022, Twitter had 259 million daily active users. Instagram boasts a staggering 1.39 billion daily active users.
Joining Threads is a breeze: simply sign in with your Instagram credentials, and your username, followers, and verification status seamlessly carry over.
While Threads has been in development since January, its launch coincides with Twitter owner Elon Musk's announcement of temporary limits on daily tweet consumption. Although these limits were short-lived, they have left a lasting impact on social media users, who are actively seeking alternative platforms like Mastodon and Bluesky. Threads addresses this demand by offering the option to post text, videos, and photos, and engaging in real-time conversations.
What is Threads?
Developed by Meta's Instagram team, Threads is a platform that enables users to publish short posts or updates of up to 500 characters. You can incorporate links, photos, or videos with a maximum duration of five minutes. The app is seamlessly connected to your Instagram account, allowing you to effortlessly share Threads posts on your Instagram story or any other platform of your choice.
Your Threads feed includes posts from people and accounts you follow on Instagram or Threads, along with recommendations for undiscovered content. Moreover, you have the flexibility to filter specific words from your feed and restrict who can mention you.
Threads is free to use and available for download from the App Store (iOS) and the Play Store (Android). Although the app has been launched in over 100 countries, its release in the European Union is reportedly delayed due to data-sharing concerns between Instagram and Threads.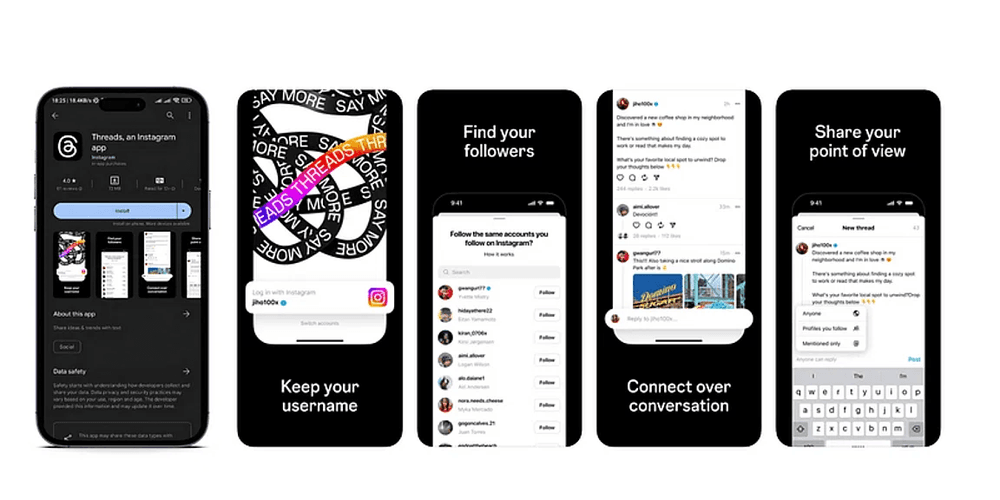 How to Get Started with Threads
To join Threads, you must have an Instagram account as the service requires you to log in using your Instagram credentials.
Here's a step-by-step guide to signing up:
Launch the Threads application and select the Instagram profile you wish to create a Threads account for. If you have multiple Instagram accounts, you can switch at the login page.
Add your name, bio, and any desired links to display on your Threads profile. Alternatively, you can import this information directly from your Instagram profile using the "Import from Instagram" button.
Choose whether to follow the same accounts you follow on Instagram within Threads. You can manually select accounts one by one, scroll through the accounts you follow on Instagram, or use the search function. Alternatively, you can opt to follow all your Instagram accounts with a single tap by selecting "Follow all."
A Quick Guide to Using Threads
The Threads user interface is designed for simplicity and convenience. At the bottom of the screen, you'll find the navigation bar with the following buttons:
Home: This button takes you to your timeline, where you'll find posts from various users. While you may come across posts from accounts you don't follow, this is the current arrangement. Here, you can like, comment, repost, and share posts. Note that Threads posts are not displayed in chronological order at the moment, but Meta is actively working on introducing chronological feeds.
Search: By selecting this button, you can discover recommended profiles and manually search for other accounts. Some of the biggest existing accounts, including Mr. Beast, Jennifer Lopez, the NBA, Marvel, the Kardashians, and even Zuckerberg himself, can be found here.
New Thread: Tap this button to create your own posts. You can write up to 500 characters and include links, photos, and videos. Hashtags are not supported in the current version.
Activity: In this section, you'll find updates on accounts you recently followed, new followers, replies to your posts, mentions, and activity from verified users.
Profile: Here, you can view your Threads profile, which displays your name, profile photo, biography, links, followers, threads, and replies. Additionally, you can edit your profile and access various settings.
Exploring Threads' Settings
Let's take a closer look at the settings available in Threads. In the profile section, tap the globe icon on the top-left or the two-dash icon on the top-right to access your settings, where you can configure notifications, privacy, and account preferences.
Notifications: Customize your notification preferences, including push notifications for threads, replies, following, and followers. You also have the option to pause all notifications.
Privacy: Control your privacy options by making your profile private, limiting access to approved followers only. Choose who can mention you, mute accounts, and hide offensive words and phrases. Additionally, you can block profiles and hide likes. Changes made to these settings will apply to both Threads and Instagram.
Account: Set up reminders to take breaks from Threads and deactivate your profile. This section also includes other settings applicable to both Threads and Instagram, such as two-factor authentication and password changes.
Deleting Your Threads Account: Is It Possible?
If you've been following the news, you may have come across concerns raised by users regarding Meta's policy on deleting Threads accounts. Currently, if you wish to delete your Threads account, you are also required to delete your Instagram account, as they are interconnected. Understandably, this has upset many users. However, there is an alternative option available to users who don't want to delete their Instagram account but still wish to take a step back from Threads. You can choose to individually deactivate your Threads account, which will temporarily hide your profile, posts, and comments from everyone until you decide to reactivate it.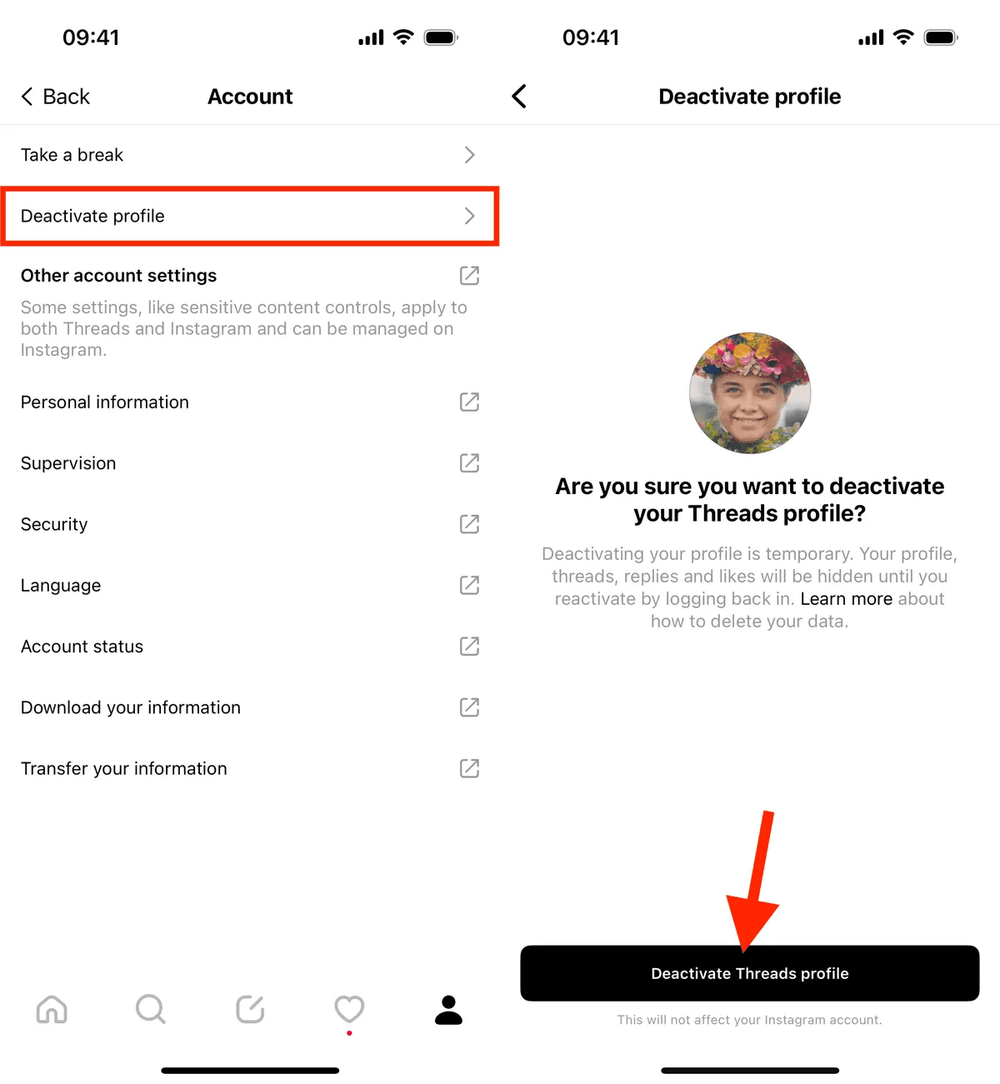 Adam Mosseri, the head of Instagram, recently acknowledged the user feedback and expressed the company's intention to find a solution that allows users to delete their Threads account separately. This means that Meta is actively working on addressing this issue and considering ways to offer more flexibility to its users.
Advertisements on Threads
A Non-Priority for Now: Ads are currently not a priority for Threads as Meta focuses on ensuring user retention and satisfaction. Discussions with advertisers are reportedly underway, indicating potential future monetization options.
Upcoming Features for Threads
According to Mosseri and the Threads team, the current version of Threads is just the beginning. Here are some of the features and settings being considered for future updates:
Chronological feed
Following feed
Independent deletion of Threads account without deleting Instagram account
Enhanced search functionality
Hashtags
Graph syncing
Messaging capabilities (tentative)
Support for ActivityPub (integration with the fediverse, a network of interconnected servers operated by third parties)
Multi-account options
Web interface
Meta's Threads vs. Twitter: A Battle for Supremacy
The competition between these tech giants extends beyond the anticipated showdown between Musk and Zuckerberg. With Threads seamlessly integrated with Instagram, it has a significant advantage in attracting users within a short timeframe.
While Meta's test and learn strategy is commendable, the company has faced challenges in launching standalone apps outside its core family, as seen with projects like Slingshot and IGTV, which received mixed responses. Additionally, the market is flooded with Twitter alternatives like Bluesky, Mastodon, and Hive, potentially fragmenting the user base seeking alternatives.
Twitter is well aware of the threat posed by Threads, as evidenced by a letter from their legal representatives threatening legal action against Meta for alleged theft of "Twitter's trade secrets."
With Threads rapidly gaining traction, the stage is set for an intense battle between these industry giants. The future of social media will be shaped by their competition, and only time will reveal the ultimate outcome.