In the ever-evolving landscape of technology, a captivating realm has emerged, promising to redefine the way we interact with the world around us. It's called Extended Reality (XR), a term that encompasses Augmented Reality (AR), Virtual Reality (VR), and Mixed Reality (MR). Each of these immersive experiences brings its own unique blend of the digital and the real, opening up a world of possibilities across various industries and sectors.
Understanding Extended Reality (XR)
Extended Reality is a collective term that encapsulates a wide range of digital experiences. It's the bridge that connects the physical and the virtual, transforming the way we perceive and interact with our surroundings.
Augmented Reality (AR): Enhancing Reality
Augmented Reality, often abbreviated as AR, enriches our real-world environment by overlaying digital information or objects onto our physical surroundings. Think of it as a digital layer that enhances what we see, hear, and feel. AR is not about escaping reality; it's about enhancing it. We encounter AR in various aspects of our daily lives, from mobile apps that display information about nearby landmarks to interactive museum exhibits that come to life with a smartphone.
Virtual Reality (VR): Immersion Beyond Boundaries
Virtual Reality, or VR, offers a complete departure from our physical reality. When you put on a VR headset, you are transported to entirely different worlds and experiences. It's a technology that immerses you in a simulated environment, often with breathtaking realism. From gaming and entertainment to education and healthcare, VR has found applications in diverse fields, enabling users to explore, learn, and engage in ways previously unimaginable.
Mixed Reality (MR): Bridging Real and Virtual Worlds
Mixed Reality, MR, is the fusion of the physical and the digital, creating environments where the two coexist and interact in real-time. It's an exciting middle ground between AR and VR, where digital objects become an integral part of our real surroundings. Imagine having a virtual pet that interacts with your physical environment or manipulating holographic objects with your hands. MR blurs the line between what's real and what's digital, offering endless possibilities for innovation.
Applications Across Industries
Extended Reality is not limited to a single industry; it has found its way into various sectors, transforming the way we work, learn, and play.
Education: Immersive Learning
In the realm of education, XR is revolutionizing the way students learn. By using AR and VR, educators can create interactive and immersive lessons that transport students to historical events, distant planets, or the microscopic world of cells. Learning becomes an adventure, making complex subjects more accessible and engaging.
Healthcare: Precision and Therapy
Healthcare professionals are harnessing the power of XR to enhance medical training and patient care. Surgeons use AR to overlay critical information during surgeries, aiding precision. VR is proving invaluable for pain management and therapy, offering patients immersive experiences that reduce discomfort and anxiety.
Real Estate: Virtual Tours and Design
The real estate industry is leveraging XR to provide virtual property tours, allowing potential buyers to explore homes without leaving their own. Moreover, XR enables interior designers to visualize and customize spaces, making it easier for clients to envision their dream homes.
Retail: Augmented Shopping
Retailers are using AR to enhance the shopping experience. AR apps allow customers to virtually try on clothes, visualize furniture in their homes, and receive personalized product recommendations. This interactive shopping experience is revolutionizing the way consumers make purchasing decisions.
Manufacturing: Training and Safety
In the world of manufacturing, XR is being used for workforce training, improving safety, and increasing efficiency. Employees can learn complex procedures in a virtual environment, reducing the risk of accidents and errors.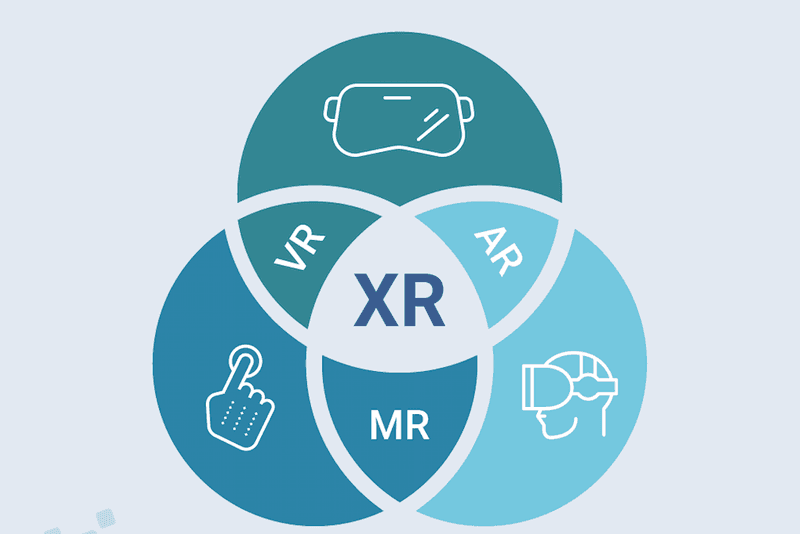 The Future of XR
As XR technology continues to evolve, we can expect even more exciting developments on the horizon. Here are some future trends to watch out for:
Wearable XR Devices – Bulky headsets and equipment will likely give way to more compact and wearable XR devices. These will seamlessly integrate into our daily lives, making XR experiences more accessible and convenient.
Advanced Content Creation – The XR content creation industry will flourish, offering users more immersive games, educational simulations, and interactive storytelling experiences. The boundary between the physical and digital worlds will blur even further.
XR in the Workplace – With remote work becoming increasingly prevalent, XR could play a pivotal role in enhancing productivity and collaboration. Virtual offices and augmented task assistance are just the beginning of XR's potential in the workplace.
Ethical Considerations
As XR becomes more pervasive, there will be a growing need for guidelines and regulations to ensure ethical and responsible use. Privacy concerns and content appropriateness will require careful consideration.
Conclusion
Extended Reality is not just a technological advancement; it's a paradigm shift in how we interact with the world. From enhancing education to revolutionizing healthcare and transforming industries, XR has a profound impact on our lives. As we navigate this exciting frontier, it's essential to embrace XR with responsibility, inclusivity, and respect for privacy. The future of human interaction is being redefined, one augmented, virtual, and mixed reality experience at a time. Welcome to the world of Extended Reality.