How to use Instagram Live to expand your page and business. Get a head start with some IG Live ideas to get things started. Determine how to repurpose and promote your Instagram Live content. Understand the best practices to follow before, during, and after an IG Live.
What Exactly Is Instagram Live?
Instagram Live is a feature within Instagram Stories that allows you to broadcast live or in real-time videos to your followers. It debuted in August 2020 and has since grown in popularity around the world. Here are two ways that IG Live can help your company grow in 2022.
(a) Enables you to communicate directly with your users in real time.
Instagram Live is an excellent platform for connecting one-on-one with your Instagram followers. If they have any questions or concerns, you can address them right away. This can increase customer retention, convert existing followers into customers, and attract new followers.
(b) Enables You to Access Guests' Social Networks
Instagram Live is also fantastic for its collaborative capabilities.
Inviting an industry expert or special guest to appear on your IG Live can bring in a completely new set of followers and potential customers.
A Step-By-Step Guide to Going Live on Instagram
Here's a step-by-step guide to setting up your first Instagram Live.
Step 1: Launch the Instagram app and tap the "+" icon in the upper left corner of the screen.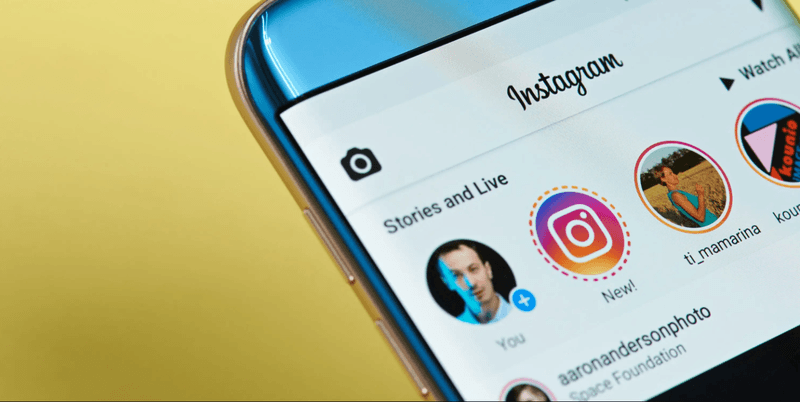 Step 2: Swipe left until the "Live" option appears.
The screen below would then appear. You can also enter a title for your livestream by using the horizontal lines on the left side.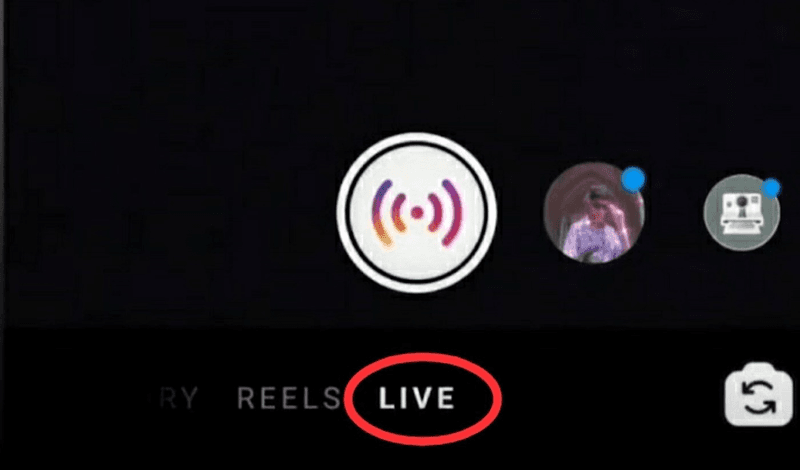 Step 3: Publish Your Work
When you click the round icon at the bottom of the screen, Instagram will check your connection and your live stream will begin!
You'll know you're streaming when a small red box with the word "Live" appears at the top right corner of the screen and a message that says "You are now live!" flashes on your screen.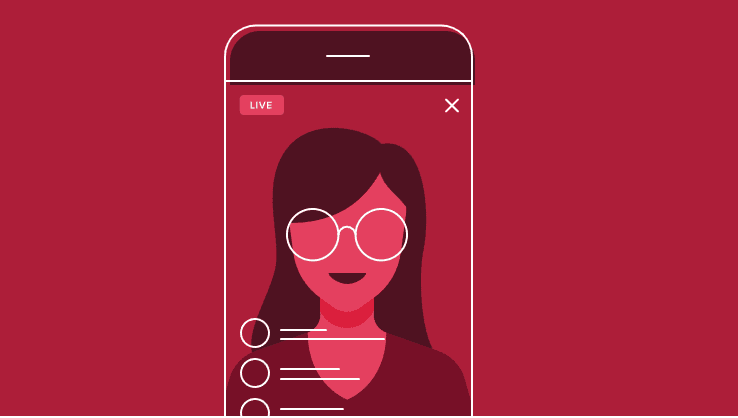 Let's also take a look at each of the icons in the top right corner.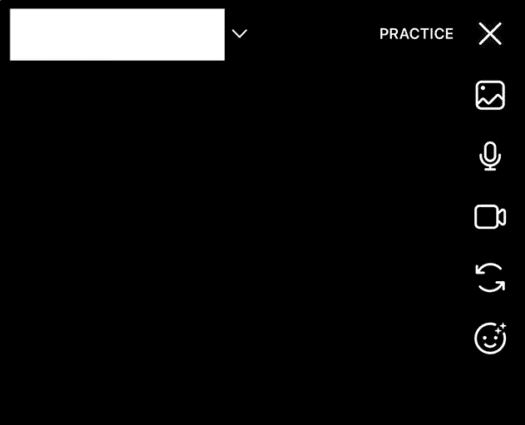 There is a microphone icon to the right of that. Tapping on this will allow you to turn on and off your audio. The video camera icon directly below that does the same thing, except it's for video.
Below that is an icon that allows you to switch between your primary and secondary cameras, depending on what you want to show.
The final icon, represented by sparkles at the bottom, will bring up your saved filters, which you can apply during the session as well.
Your session will be ended if you tap the topmost "X" icon. Don't worry if you accidentally hit this during your live stream; Instagram will ask for additional confirmation before disconnecting.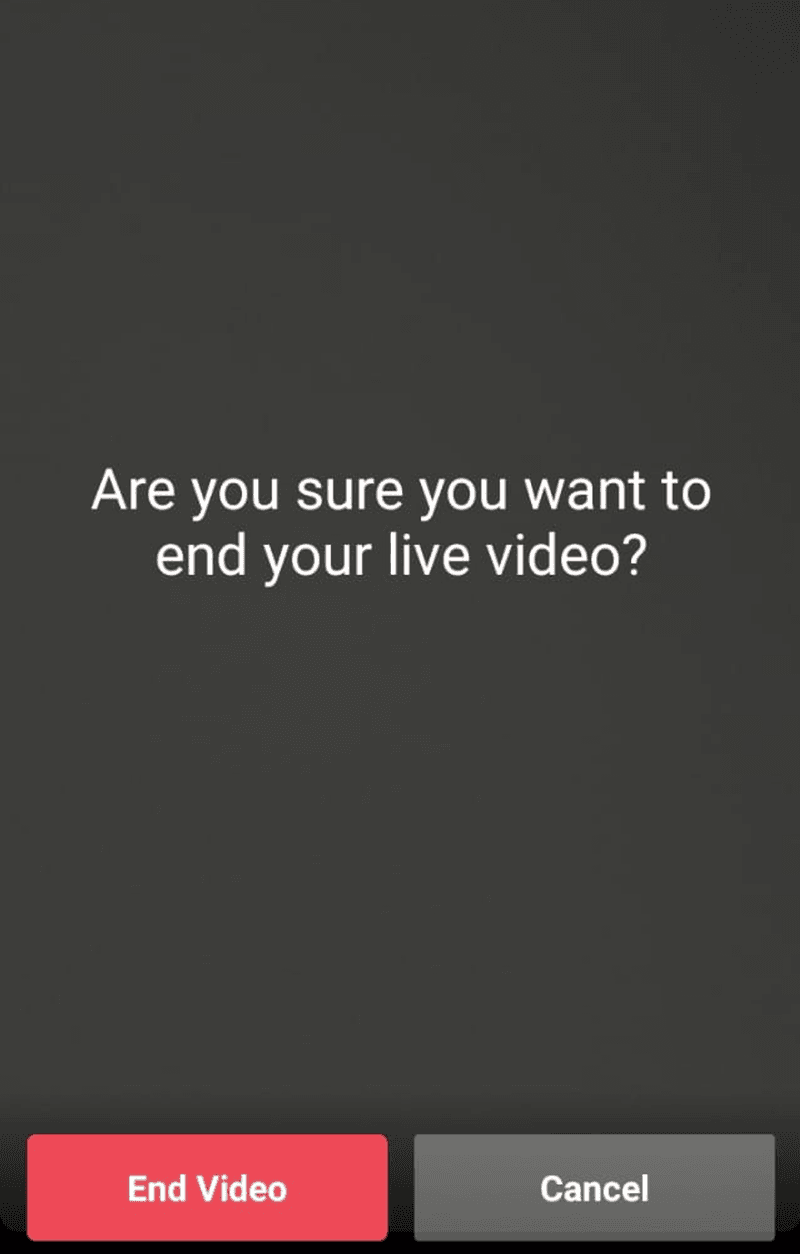 And with that, you've launched your first Instagram Live!
You'll see a vertical stream of comments and likes (in the form of hearts) from followers, as well as the usernames of new users who have joined, at the bottom of the screen. Here's how to hide Instagram comments in real time—you can disable them with a single tap on the screen.
Step 4: Going live with one or more people
An array of icons can also be found further down, next to the comment box.

So, when you want to go live with another user, select the first icon that looks like a camera with a plus sign in the middle. This will also notify their followers that they are a part of your Instagram Live, and they will all be able to view your joint session.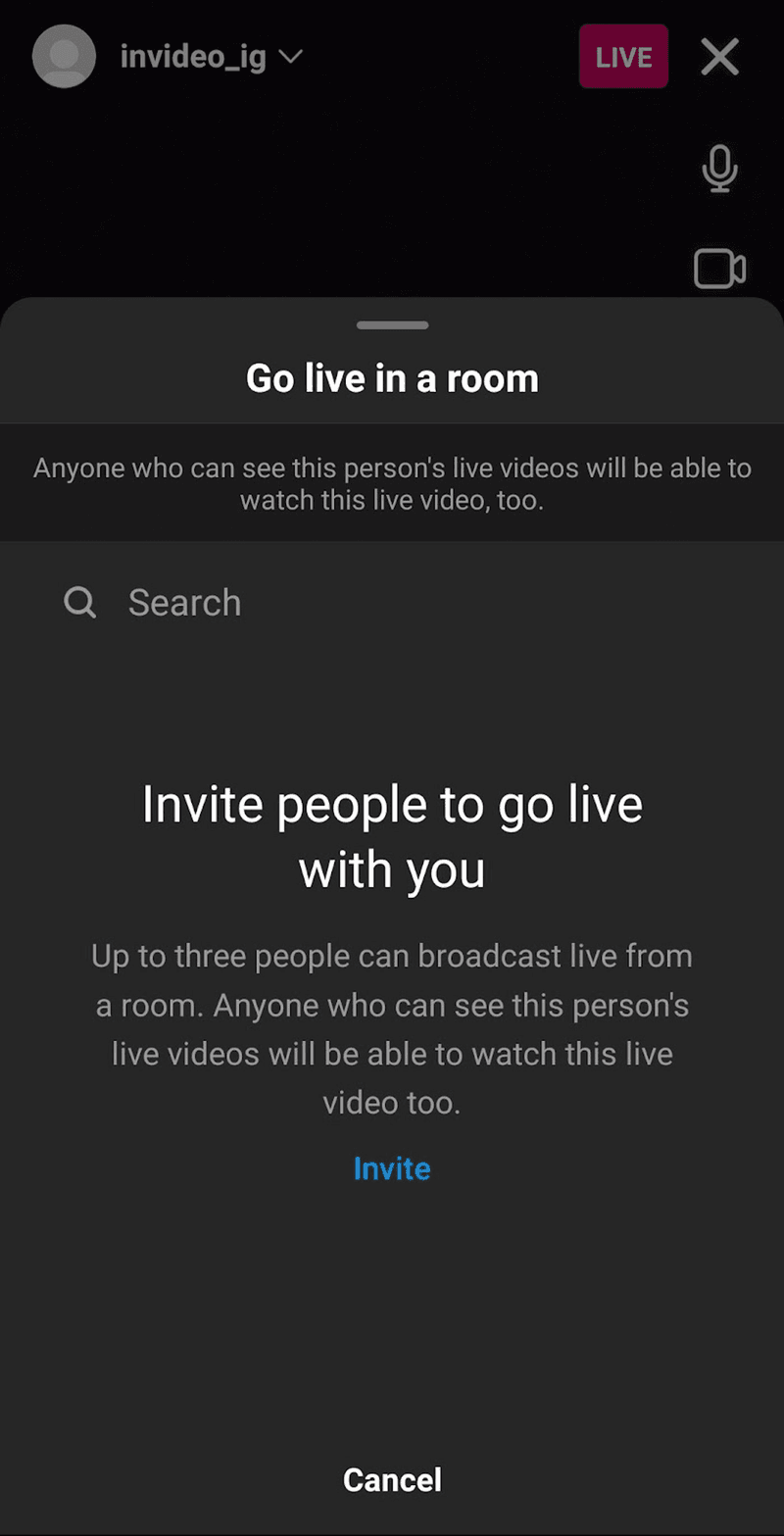 It's simple—just type the user's name into the search bar and click Invite to join you.
Instagram Live Rooms allow you to go live with up to three guests. This means a larger pool of potential new customers who could be introduced to your business. When you click on the video camera icon, a dropdown menu will appear from which you can add additional guests.
Step 5: Answering Viewers' Questions
Tapping on the middle icon, which is represented by a speech bubble with a question mark, allows you to view any questions sent to you by your viewers.
You can also choose to show the question to the rest of your viewers by tapping on it.
Step 6: How to Direct Message your IG Livestream
Do you want to show a friend your Instagram Live stream? No problem.
An icon resembling a paper airplane can be found on your far right. If you're familiar with Instagram, you'll recognize this as the direct message icon.
You can send a link to the live session to any Instagram user you want. When you tap the icon, you'll be taken to a new menu where you can choose the user.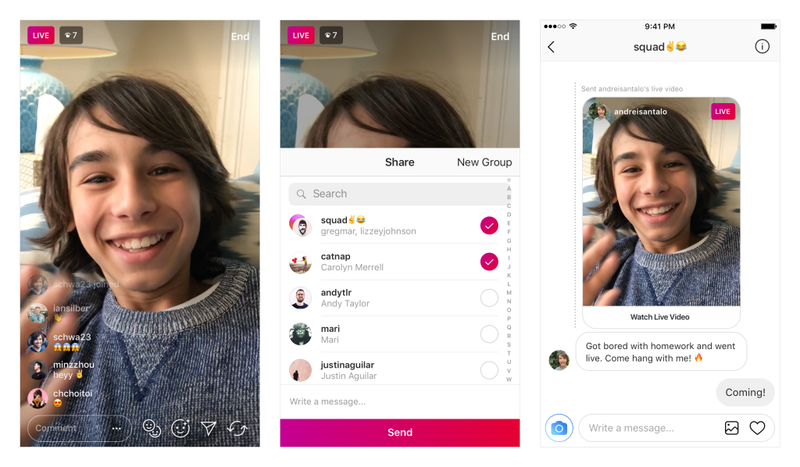 Simply select their Instagram handle and tap the 'Send' button at the bottom, and they will receive an instant link to your Instagram Live.
Step 7: How to Moderate IG Live Comments
Instagram Live is built around comments. They make it enjoyable, interactive, and democratic. But you never know what can happen on live streams, and if you're concerned about trolls or people spamming your comments section with inappropriate language, there's a simple solution.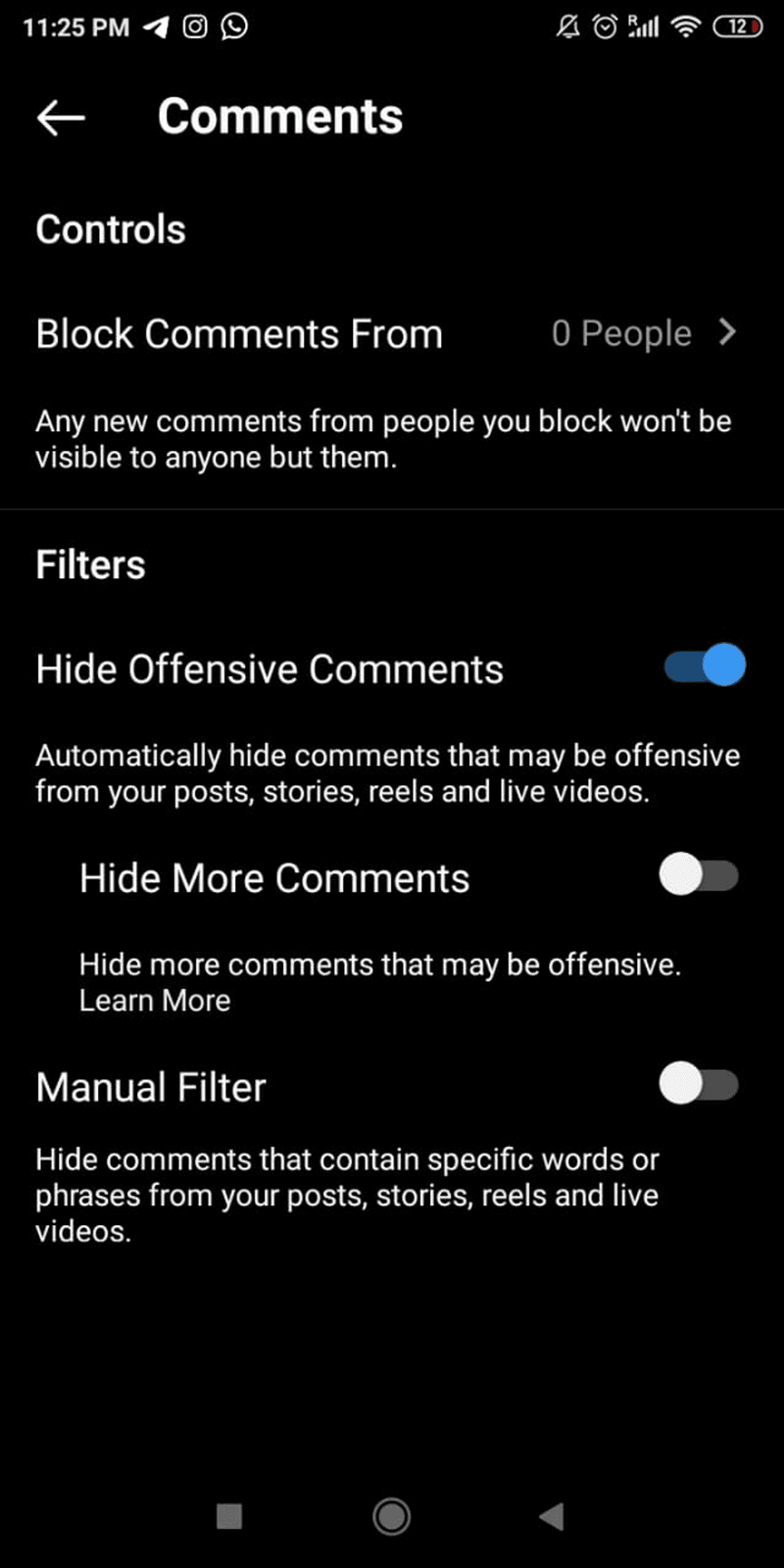 Navigate to your Instagram settings, which are represented by the gear icon on your profile. Then, select Privacy, followed by Comments.
Turn on the Hide Inappropriate Comments option by clicking the toggle button. You can also use the Manual Filter option to exclude specific keywords from this list.
The option will be applied to all of your posts, stories, reels, and live videos.
Step 8: How to Share Your IG Live Stream
So far, we've shown you how to set up an Instagram Live, invite guests, and moderate comments. After the session is over, you have a few options.
First and foremost, you will be presented with an end screen similar to this.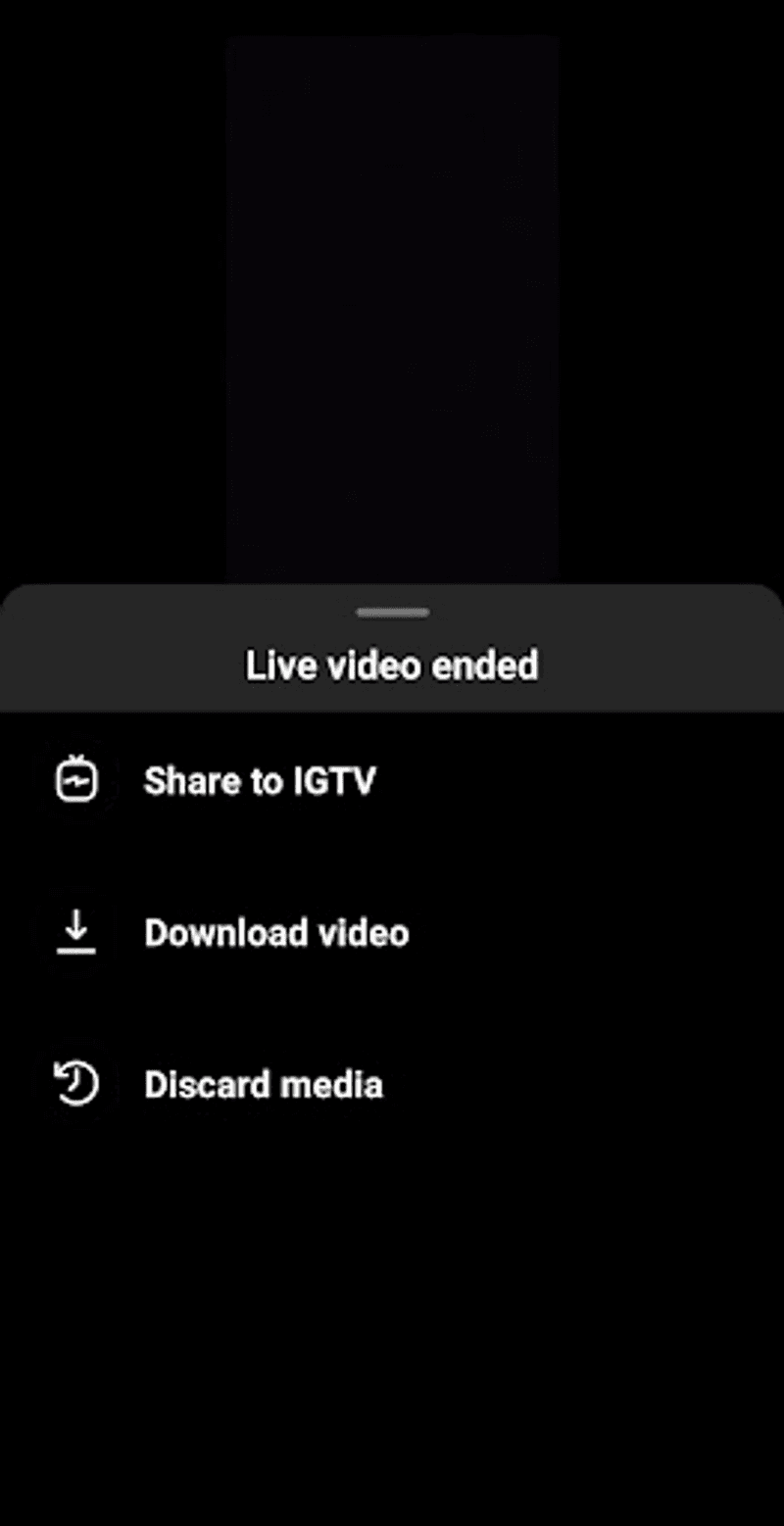 At the bottom, you'll see a "Share to IGTV" option, which allows the session to remain on your page indefinitely.
We also recommend saving the session by clicking the download icon. Remember, this is the only time you can download Instagram Live videos, so don't skip this crucial step.
5 Instagram Live Tips to Get You Started
Here are five Instagram Live ideas to get your creative juices flowing if you're stuck or want to try something new.
(A) Industry Lowdown
Your Industry Lowdown sessions could be used to answer viewers' burning questions about what's going on in your industry. You can also host workshops and live webinars to discuss specific issues with your audience, particularly if you work in a highly technical or complex industry.
(B) Behind-the-Scenes Footage Video
A livestream can be an excellent way to take your audience behind the scenes and show them the realities of how processes unfold in your company. Depicting the intricacies of your brand makes it easier for followers to identify with it, which is critical in today's digital marketing world.
(C) Product Launches Or Demonstrations
These are traditional formats that can help you generate buzz as a product launch approaches.
However, IG Live is equally effective for demonstrating your product in action. According to a Wyzowl report, 84 percent of people have been persuaded to buy a product or service after watching a brand's video.
During the session, viewers had the opportunity to ask questions, ensuring that they got their money's worth. It's worth noting that the Livestream wasn't solely focused on the grill. Other items on the agenda included a Q&A session and his thoughts on consumer behavior during the pandemic.
(D) Flash Sales
Taking the preceding step a step further, you could hold a special flash sale if you have excess inventory that needs to be sold quickly. Your followers can use the comments to reserve specific items before purchasing them.
(E) Weekly Segment
You could also host a recurring session with your followers at regular intervals, such as once a week. This will inform your followers that they can expect a new broadcast from you on a regular basis.
Remember how we talked about leveraging the power of guests earlier? You can try out any of the above formats with a special guest, which will only improve the quality of your session and attract a larger audience.
[Pre-Livestream] How to Promote Your Instagram Live Content
If you're going to host one, you'll need a good way to promote your Instagram Live pre-Livestream. A steady stream of promotions for your session will ensure that your audience is ready for what's to come. Here are a few ideas to get you started.
Here are some ideas for promoting your IG Live pre-Livestream:
When you're posting about the live session on your stories, you can use the interactive question sticker to help boost engagement in the lead up to your IG Live.
You could also include a poll, allowing you to take that information and use it strategically to create content around the topics your followers want to see.
Video teasers on multiple platforms such as Instagram, Facebook, Twitter, and YouTube are an excellent way to promote your live session.
Another way to get some attention for your Instagram Live is to use the followers of your guests. Simply coordinate with your IG Live guests so that when you post the promo in your Instagram Story or feed post, you tag them and they reshare it. This way, you can reach out to all of the followers on both of your accounts at the same time.
[Post-Livestream] Repurposing IG Live Content
The simplest way to repurpose your Instagram Live would be to share it in its current form across all of your social and marketing channels. This includes embeds in blog posts, newsletters, and mailers, as well as platforms like Facebook and YouTube.
However, if you really want to get your money's worth, we recommend breaking up your entire livestream into snackable formats that are short and sweet, engaging, and high in value for the viewer. These snackable videos should ideally last between one and two minutes.
We've compiled a few suggestions and pointers for you:
Picking an important quote and creating a small snippet around it is a great idea for a snackable video. 
You can take an interesting insight from your main content and create a short video around it to spark discussion.
You can also use bite-sized explainers that summarize the main video in no more than 10-15 seconds.
Make a podcast out of the Livestream content and distribute it across audio platforms.
You could also make an entire series out of a single Instagram Live if you were giving advice or answering questions from your Instagram followers.
Assume you had a customer who gave you a glowing review of your product or service. Make sure to include their information and any key descriptors they may have used to highlight the words they associate with your product.
Final Thoughts…
Now that you've learned how to go live on Instagram, it's time to host a super-interesting Instagram Live! It's critical to plan carefully and not get too caught up in your own thoughts. Also, don't be afraid to experiment and learn from each session.
Source: Invideo