Business owners shy away from Google Ads since they think about the budget that goes with it.
They are also aware that it can be a boon or a bane to any business. If it is handled well, it can transform one's business. However, if it is not done right, it can be troublesome particularly in the finance department. Google earns 2.3 million searches every second. Majority of these include Google Ads. Indeed, Google Ads has not ceased to drive high-quality traffic to any business site.
What Is Google Ads?
Google ads, formerly Google Adwords, is a Pay-Per-Click advertising platform that offers two ways to reach your targeted audience: through the Google Display Network and the Google Search Network. With the Google Adsense Program, you can find natural and organic links both on top and bottom of the search engine results pages. Google Display Network, on the other hand, is an extensive collection of third-party sites that partner with Google and agree to show Google Ads. The Google Ads that can be found on Display Network can be in the form of video, rich media, text, or image. It can also include remarketing and banner ads.
Display ads work well with re-engagement campaigns. This is showing ads to people who have visited your site already, hoping that they will visit it again. The Search Network shows your ads to those who are actively searching using the keywords you chose.
The Basic Principles of Google Ads
The idea is basic. You choose some keywords that a user might use to search on Google. You will then create an advertisement that will appear on the SERP in those keywords. You have to bid with those keywords along with the other companies that are interested in those keywords. The more you pay for every click, the higher the chances of your ad to appear in the search results pages.
Google came up with the concept called ad rank which will show you how well your ad ranks in the search results. The ad that gained the highest rank appears on top of the search results. The amount of bid is only one factor in calculating the ad rank. Other factors include the quality of ads and the landing page; ad extensions and other ad formats; ad rank thresholds which depends on several elements such as nature of the search, topic, the device used, and location; and the search context.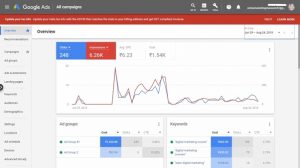 How to Create a Google Ads Campaign
All you have to do when you want to have a Google Ads campaign is to go to their site and create an account. You can start creating a campaign once the account is up and running. You have to decide first on the type of campaign that you like to create whether it is a search ad, a display network ad, video ad, shopping ad, and the universal app. Every type of add has a different method of the campaign to run. All you have to do is follow the steps provided by the site.
The next step is to choose the means in which you accomplish your goals either through getting phone calls, site visit, or app downloads. You also have to provide the details necessary for it to be completed such as the site, phone number, and the name of the app.
You need to come up with a name for your campaign and then add your location targeting. This will enable your ad to be seen by people in a particular location. Next is to choose the bidding strategy. You may then set your budget, the budget, and the start and end dates. It is also possible to include ad extensions to give more information to a number of viewers. Then you may choose your keywords. Finally, you will be able to create the ad and provide two headlines and a description. Submit the ad for review and you're all set.
Google Ads is a vital means for promoting your business online. Find out more about how Dreamond can help you leverage your business using Google Ads here!