Does your real estate business struggle due to COVID-19 pandemic? As most businesses shut down in an effort to contain the virus, many have lost their income. How can you recover your business, leads, and sales in times of crisis? Here are real estate digital marketing ideas you can implement in your campaigns.
Real Estate Digital Marketing Ideas to Apply During COVID-19
Virtual Open Houses
Since you and your client cannot inspect the properties personally, it's time to put your listings in a virtual tour. VR is one of the effective real estate digital marketing ideas in this pandemic. Set up virtual open houses of your listings and upload them to your website and social media channels.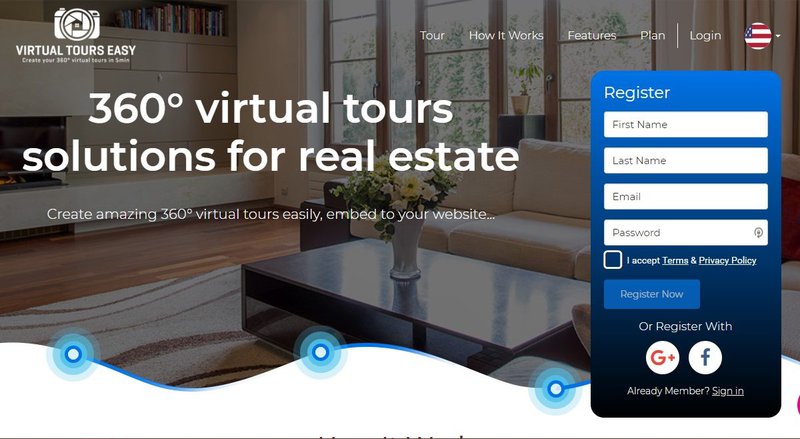 Virtual tours will help your customers to see and tour your properties anytime and anywhere they want. Not only are they safe browsing your listings at home, but you can also promote it anytime too. What's more? It's incredibly easy to make a virtual tour too!
Set up Digital Platforms To Communicate with Co-workers and Customers
To keep your employees safe too, it's recommended to implement work from home policy. You can do this by shifting your work into a virtual space. You can make use of digital marketing tools like Zoom, Asana, etc for project management and teleconferencing.
These real estate digital marketing ideas and tools will help maintain the essential functions of your business from home. Likewise, you can also set up digital channels like live chat, chatbots, cloud phone systems for your customers. Your customers can reach you out anytime and anywhere of the day for listings and property queries.
Real Estate CRM Software
Want to automate your business' lead capturing, telephone system, property listings, and invoice? Make sure to get a real estate CRM software now! These real estate digital marketing ideas and software let you manage your leads with 360-degree contact.
It also enables you to publish your real estate listings and publish it across multiple channels in one go. You can learn more about its awesome features here.
Market Watch
Stay updated with real estate's latest trends, home prices, sales, and listing data by watching the market. You can take this advantage to compile all the necessary information about the latest house trends during the crisis.
It'll help you determine what marketing campaigns work for your customers. These real estate digital marketing ideas will also help you provide uninterrupted services to your customers by bringing in your latest property listings.
Targeted Facebook Advertising and Sponsored Posts
Get incredibly aggressive with online promotion and advertising by utilizing Facebook marketing. You can upload your virtual tour property listings as Facebook Ads. You can also upload it on Facebook stories, or set up ads. Aside from that, you can also set up sponsored posts to your listings. Real estate digital marketing ideas like sponsored posts will help you reach more customers.
Engage With Your Past Customers on Social Media
Since most people stay at home today, they have more time with their family or to browse things online. This is the perfect time for you to engage and catch up with your customers. Hit them up a simple email asking how they're doing, and ask them about their updates in life.
Likewise, you can also ask how well they're staying in your property. In this way, your customers can give you a positive review or recommendation not only in your properties.
They also give testimonies to your real estate services. Another real estate digital marketing ideas include having Facebook live to conduct Q&A or webinar to your customers. This way, you can answer your customer's queries and concerns.
Contact our professional agents now to revamp your real estate marketing plan this COVID-19!