Now that you know the importance of digital marketing in real estate, you must be ready to kickstart your campaign. You're interested to launch new marketing campaigns for your business. However, they're at a loss on how much digital marketing spend for real estate they should invest in.
Will they start on a budget or spend lavishly? To help you determine the right budget for your campaigns, here are the basis or checklist you should inspect.
Digital Marketing Spend for Real Estate Checklist
Before determining the digital marketing spend for real estate, you need to determine your goals first. As a successful realtor, here are the rundowns of what your goal must be:
Build Real Estate Brand Awareness not only in your local community but also in your neighborhood.
Establish a strong online presence of your brand and business.
Establish and maintain professional relationships with your customers.
Maintain your influence and reputation in the real estate industry.
Generate inbound leads to sell all your property listings.
The Starter Pack: Less than $2,000/year
In this budget, you can already avail the following services to establish your brand presence in real estate:
Virtual Tours For Your Real Estate Property Listings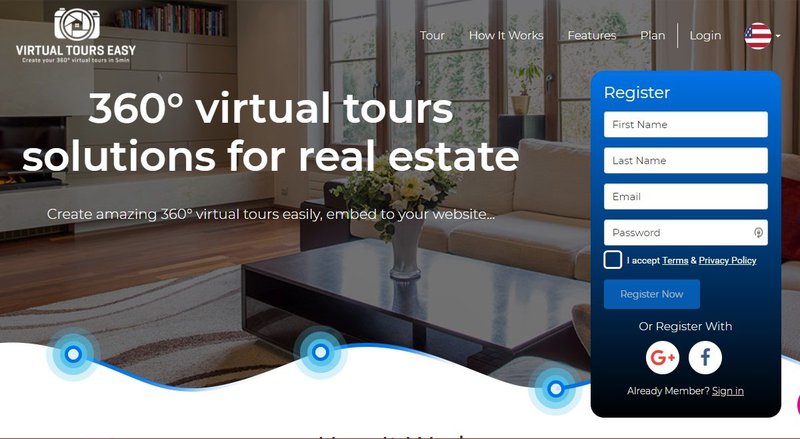 With this amount, you can already purchase a virtual tour software to handle your property listings. Virtual tours are essential to boost your website and your listings. The more people get to view your properties, the higher your potential leads are. You can check out its features here.
Real Estate CRM Software
Want to automate all your real estate tasks and have a centralized management platform for easy access? Fret not! Our Real Estate CRM software will handle all these tasks for you! You can now access your invoice, customer base, appointments, sales and reports in one platform! Check out its awesome features and plans according to your needs.
Other Services
Professional copywriter for articles, blogs, and content.
Professional photographer, graphic designer for your visual content.
Real-estate template for your website.
$5,000 Digital Marketing Spend for Real Estate
In addition to all the services mentioned above, you can also avail the following with this budget:
Professional videographer for your 360 virtual tour shots.
Few hours for digital marketing services to build your online presence.
Social media marketing training course to boost your social accounts.
$10,000 Digital Marketing Spend for Real Estate
With this budget, you can avail of the services above plus these additional services:
Hire web developers to build your dedicated website. Having a dedicated, professional website makes it easier for you to build your presence. You'll also have complete control over your listings, blogs, and content.
Launch a paid advertising campaign with Google AdSense. This will help boost your search engine rankings easier and faster.
$20,000 Digital Marketing Spend for Real Estate
Publish online content on multiple platforms in one go. You can also hire a professional content writing team to handle your content management.
Sponsored content on social media. Why not sponsor your ads and boost your posts to increase your audience exposure? Sponsored posts help boost your rankings and reach more customers. This also helps increase your potential leads.
Hire Email Marketing Specialist to handle email marketing and customer service response.
$40,000/year
With this level of digital marketing spend for real estate, you can add the following services to your campaign:
Rely heavily on PR and outside help to boost your presence further.
Allocate bigger AdWords budget.
Hire an ebook writer to publish books and downloadable guides.
Use virtual tours to create more videos. This will also help you set up a regular vlog channel.
$80,000/year
This ultimate package lets you access all the services above. Not only that, but you can literally set up a whole marketing team and let them handle all these tasks for you. It lets you give ample time in managing the crucial part of your business.
Contact us now so that your marketing experts team can help you set up your real estate digital marketing.